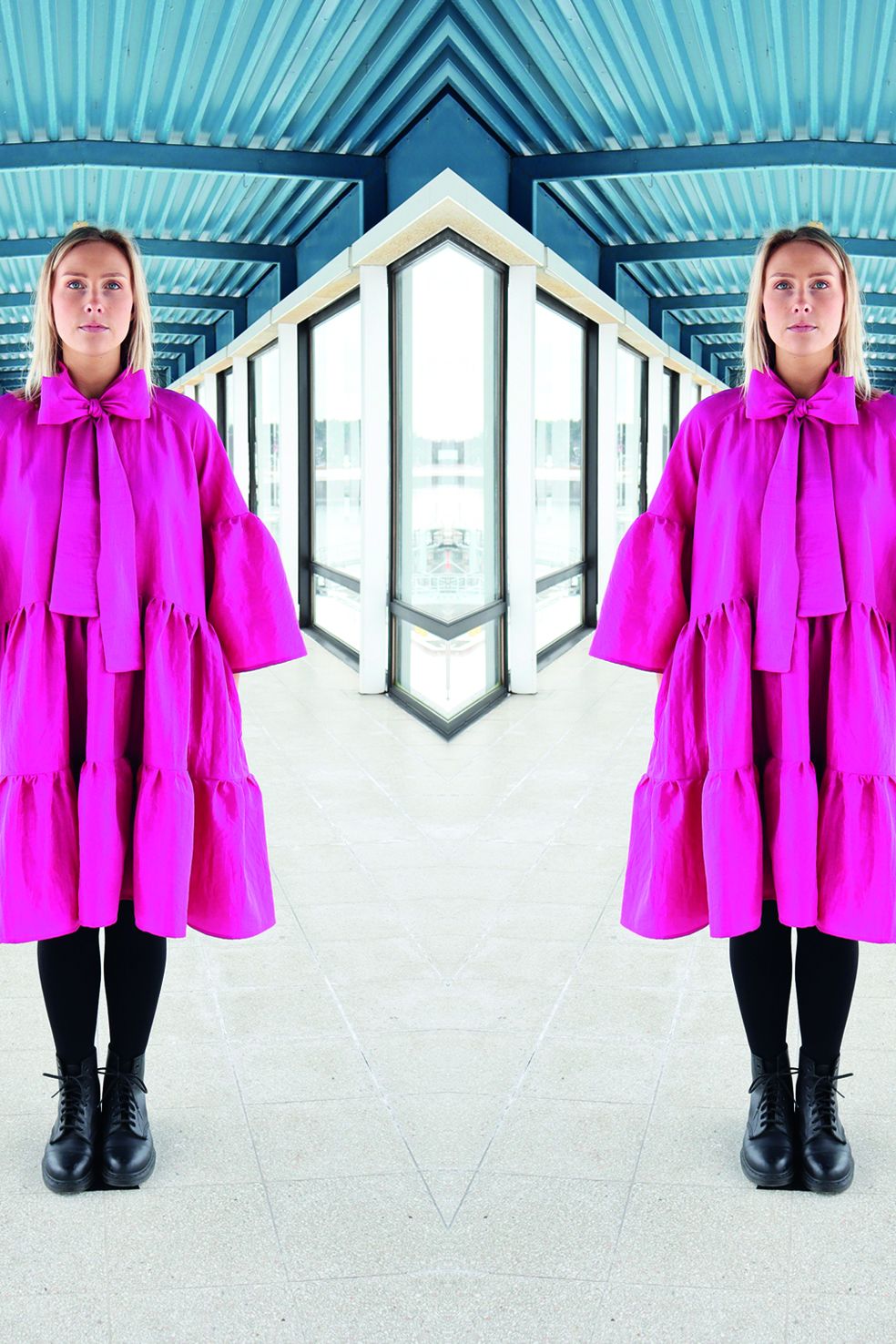 Miia Halmesmaa–the "Miia Halmesmaa" clothing and accessory collection consists of unique individual pieces and limited lines of womenswear, accessories and jewelry, which is all produced in Finland from high quality ecological materials.
How would you describe your collection?
In my collection, I combine and play with minimalist clean lines and luscious curves. To me, designing is like creative play with different materials. It is gratifying and always equally inspiring to see how changing the material brings the same garment to life in a whole new way. It's important to me that the clothes I design are also comfortable to wear. I believe that comfort can include shiny surfaces, floating hems and bows. In my collection, I bring new elements that challenge the idea that a sweatsuit is the peak of comfort. I hope that the clothes from my collection will always be the favorite and most dependable clothing of their new owner.
How did you find the clothing field, and where else have you left your mark?
From when I was small, creativity and doing things with my own hands have attracted me. I found my own strength in crafting with the help of my mother and grandmother. Many of my dearest childhood memories are connected to either my mother's sewing room, that secret place where my beautiful summer dresses were miraculously born. Or to my grandmother's hands, which always held knitting needles, while the work and the telling of stories never stopped.
To me it has always been clear that I am striving towards my dream of being a professional clothing designer. I started in 2001 in clothing design studies at the Turku University of Applied Sciences, in bachelor's studies at the Arts Academy. And I finished my studies at Aalto University, School of Arts, Design and Architecture, graduating with a master's degree in 2014.
The collection that carries the name of Miia Halmesmaa has been in existence for about 10 years. The years have brought a lot of experiences, such as international competitions, costumes bursting with attitude for music world influencers, broadening my own skills in shoe design, running a young designers' movement in Helsinki, and many clothing collections, hopefully most of which are still on my clients' lists of favorite clothes in their wardrobes.
What is your clients' favorite garment from your collection, and what is its history?
The absolute favorite and classic of the collections is the Flowy dress. All of my collections' dresses have their origins in my own need to wear beautiful, versatile, loose and comfortable dresses, which can be worn year-round. The Flowy dress becomes a bit different from collection to collection – the sleeve pattern and the dress's material change with the season.
What is your own design philosophy?
I love simple, clear lines and comfortable garments that, however, have some detail or thing that gives it personality. This is reflected both in my own way of dressing and in the collections that I design. It's also important that the clothing is ecological. I actively try to minimize the carbon footprint of the clothes I design. For this reason, I mainly use surplus materials from the textile industry in my collections. And this in turn creates the basis for my design, which is strongly guided by the material. Because I use surplus material, I can't myself decide on the amount I receive. In my collections, I turn this into a positive thing, and for this reason the collections mainly consist of unique individual pieces and small lines of products.